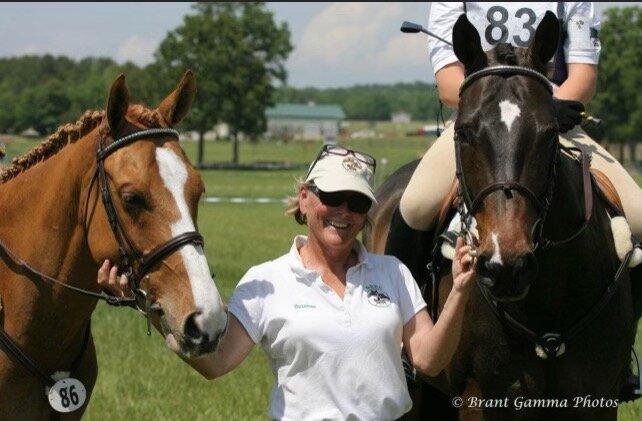 Suzanne Martin Lacy
Owner/Instructor
President of Equine Management Training Center
Suzanne is a teacher by education and equestrian through heartfelt passion. She started her career with horses at a very early age. Suzanne shares her knowledge of horses with students of all ages through lessons, eventing, coaching, and caring for animals.
Suzanne's goal is to provide a place where all from 8 years to 85 plus can come and learn to ride. Sandy River, now in the 25th year of operation, has 230 acres and 37 horses with 13 school horses that are capable of helping our students compete from competitively through training level. "It is so important to me that everyone who wants to ride is given this opportunity to learn to ride and learn the responsibility of caring for a horse and appreciate what a horse can do for their confidence. Someone has to start our future eventers." Suzanne states enthusiastically!
Suzanne is the owner of Sandy River Equestrian Center and has trained with Jim Wofford, Karen O'Connor, Betsy Steiner, Peter Grey, and Virginia Wiseman. Suzanne is an owner for Will Coleman and owns part of Tight Lines, Dondante, Off the Record, and TKS Cooley. Suzanne also owns a portion of Philip Dutton's Z.
Suzanne lives on the property with her husband Rusty Lacy, who is in charge of farm maintenance.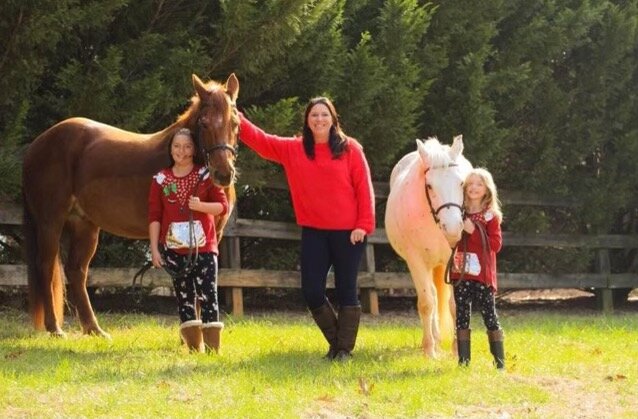 Samantha Burton Henley
Facility Manager/Instructor/Trainer
Program Administrator for Equine Management Training Center
Samantha Burton Henley is the Head Trainer and Facility Manager at Sandy River Equestrian Center owned by Suzanne Martin Lacy in Axton, Virginia. Sam came to Sandy River Equestrian Center in 2004 from the O'Connor Event Team, where she was the Competition Manager for the O'Connors and David O'Connor's Head Groom. In that capacity, she has traveled all over the world caring for 4-Star and Olympic level horses.
In addition to the experience with the O'Connors, Sam has been a Head Groom for the 2004-2006 Area II NAYRC Teams and the Head Groom for the 2006 Canadian WEG Team. At Sandy River, Sam is an instructor and trainer for many up and coming young horses, young riders and their horses. Sam also works with adults. She assists Suzanne in creating a world class training center at SREC which hosts YRAP camps, pony club camps, and and various event camps. Sam is the Program Administrator for the Equine Management Training Center, a professional groom training program. Sam resides at Sandy River with her daughters, Danni and Riley.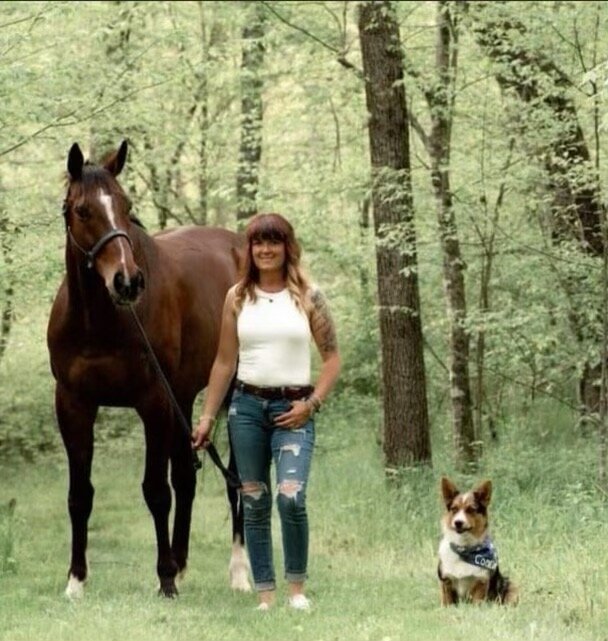 Kristie Compton
Barn Manager
Kristie has been the barn manager of SREC for seven years. She manages not only our revolving door of 40+ horses, she manages the staff and working students as well. She has always had a soft spot for the OTTB's and has enjoyed bringing along "Outlawed", A nine-year-old OTTB. "Wyatt" Has been with us for two years and has definitely found his person in Kristie. She has taken a horse that everyone had given up on and turned him into her horse of a lifetime. She's enjoying every moment competing him and is excited for the season. Kristie lives on the farm with her husband John and her two kids Mikayla and Braydenn and her three dogs Sarge, Conrad, and Kevin. When she is not working on the farm she is busy running MiKayla to volleyball and chasing Braydenn on his dirtbike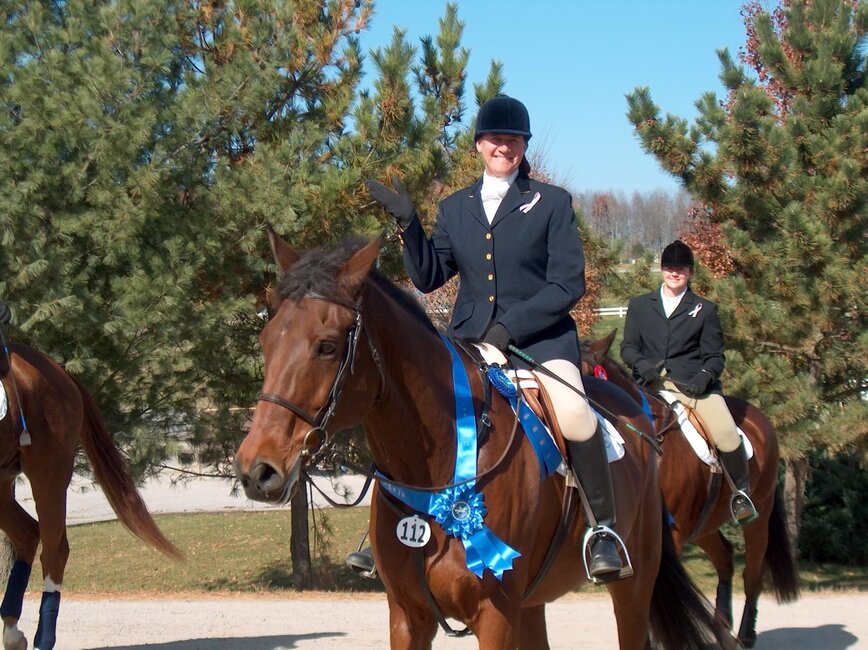 Franz-Hahr Phillips
Secretary
Summer Camp Coordinator
Franz-Hahr has been involved with all aspects of daily activities and special events at Sandy River Equestrian Center for nearly 20 years. She has competed through the Preliminary level.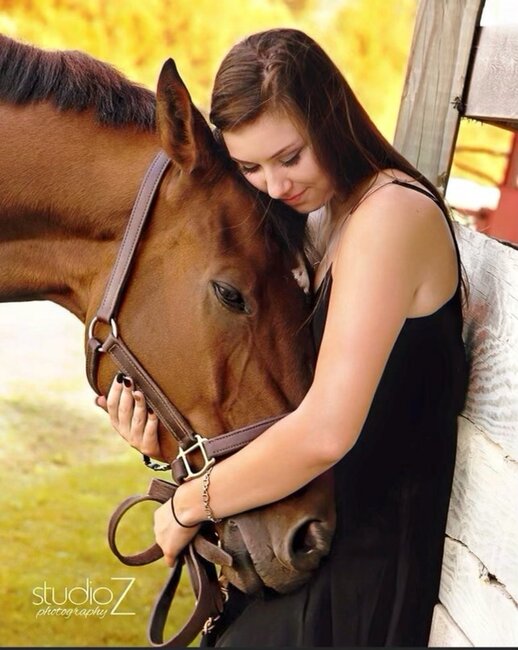 Allegra Febbo
Assistant Barn Manager

Al grew up in Cleveland Ohio and begin taking lessons at an Eventing barn at age 5. She graduated from Averett University in 2020 with a degree in equine business management and a concentration in eventing. She successfully competed on the IHSA, IDA, ANRC, and Eventing teams.
Al has been bringing along Booker for the past 10 years and they compete at the Training level. Al lives on the farm with her 2 dogs, Molly and Winnie, and her cat Cornbread.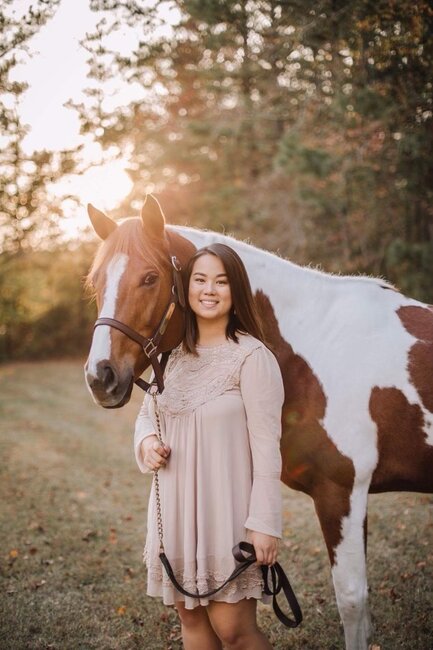 Kayleigh Netzband
Barn Staff
Kayleigh has been riding for over 15 years and has leased and owned horses throughout those years. She worked at Buckhorn Farms in Apex North Carolina as an assistant for the lesson program during her time in high school. She Completed a handful of collegiate level courses to further her education in equestrian studies and management. Over this past summer she volunteered at Sandy River Equestrian Center with their camp program. She is currently a staff member at Sandy River assisting with horse care and barn management.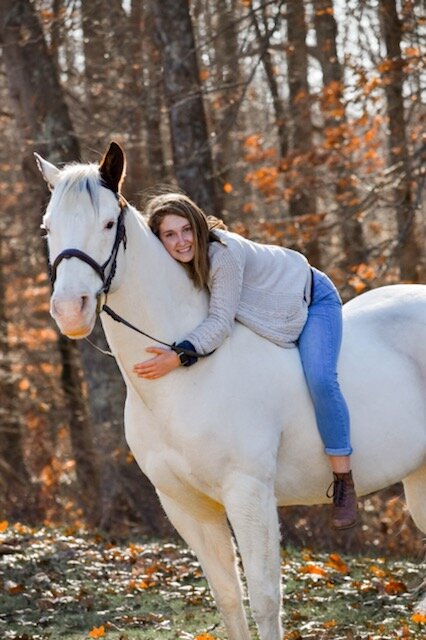 Desiree Edwards
Barn Staff
My name is Desiree but a lot call me Des, I'm 23 years old and have been riding horse for as long as I can remember. I have been with the Sandy River Team for almost 6 years now. What started off as lessons in 2016 soon lead to an internship my senior year of high school in 2017. Ever since I have been helping on the farm and learning more and more on eventing and forever expanding my knowledge on horses and horse care. Coming from more of an western/ hunter background I really had no clue the ways of eventing. Sam and Suzanne have helped me every step of the way along with moral support from everyone else on the farm! The education you receive on and off horses is so informative. One could not ask for a better farm or farm family! Sandy River is a place that feels like home and a farm where you always know that your horses are safe.